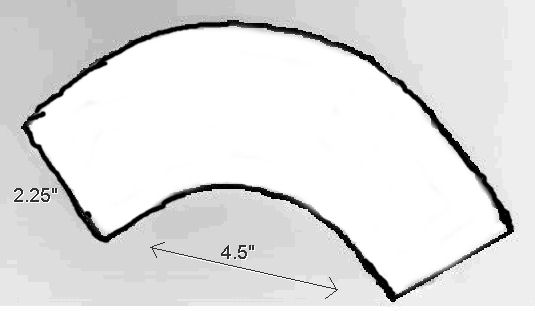 1.) Trace template onto clear plastic notebook cover, then cut out.
2.) 1 sheet Dr. Scholls molefoam- cut 2 strips ¼" along long edge.
3.) Remove one adhesive strip and stick one on top of another leaving one adhesive strip for later.
4.) Cut ¾" off of dual layer molefoam- remove backing and adhese to clear plastic as shown.
5.) 1 sheet moleskin- sut a strip 1-3/8" wide down length
6.) Cut slits ½" deep at ½ " intervals down length
7.) Turn collar over molefoam side down. Remove backing from moleskin. Affix uncut edge to collar- about ¼" of it
8.) From the middle of moleskin- wrap around over molefoam, maintaining contours. Trim excess mole from edge.
9.) Cut 1/2" strip from moleskin
10.) Remove backing and adhese over slitted mole skin.
11.) Cut 1 strip 1-3/4" long X 5/8" wide
12.) Remove backing and place on edge of collar
13.) Wrap around edge of collar
14.) The Complicated Collar- Apply a small amount of duct tape, Fold a small amount of duct tape over to make a tab for easy removal.
15-18 are photos



ALL steps can be seen in photographs below.